How to Open PSD File Without Photoshop (7 Ways)
Do you have a PSD Extension File and want to view or edit it but don't have enough budget to buy Photoshop? If Yes, then don't worry, today I'm going to Share how to you can Edit & Open PSD File Without Photoshop.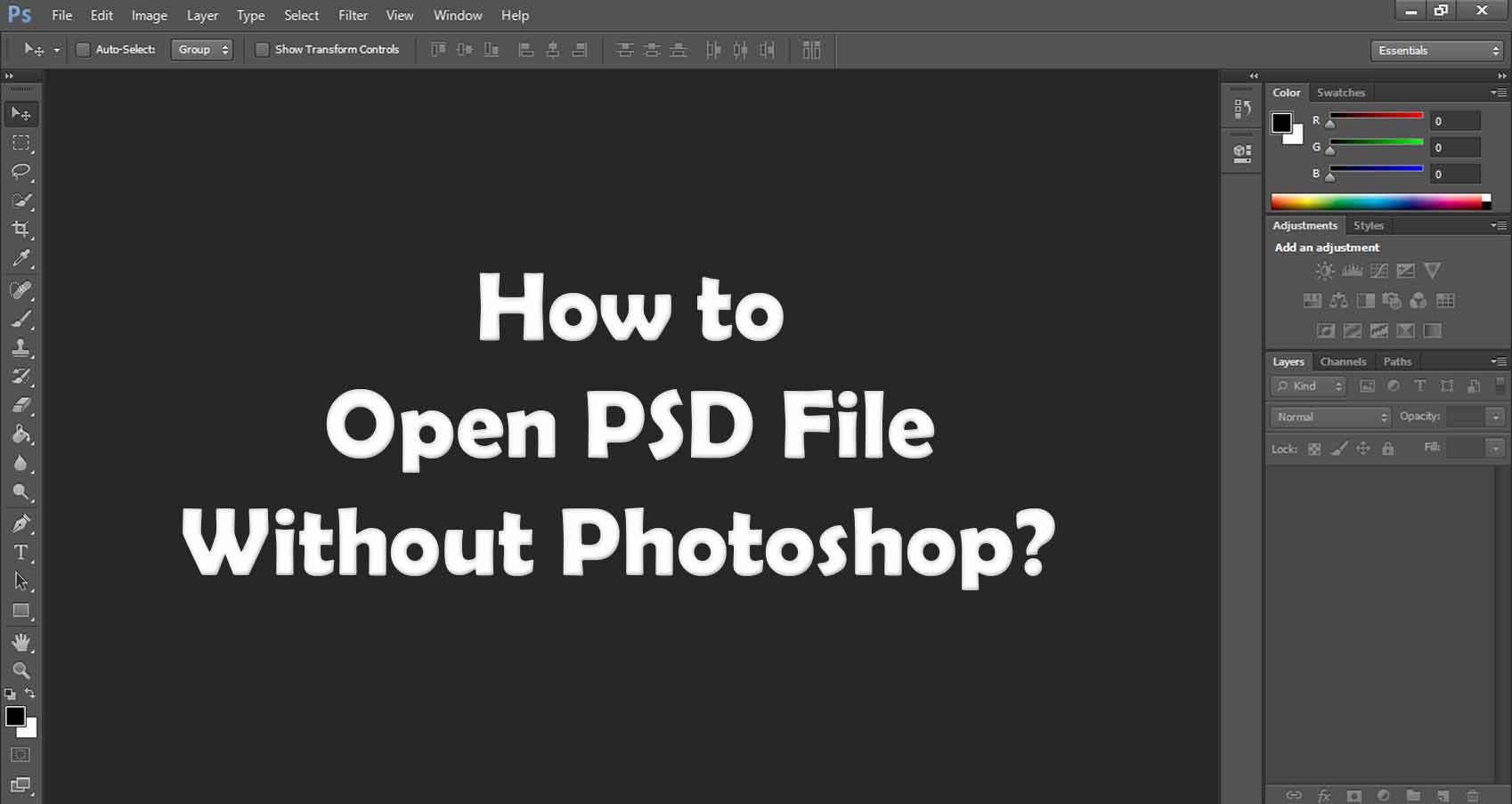 When it comes to Photo Editing, Photoshop is one of the most popular and Best Photo Editing Software. Whenever there is an edited photo, no matter which software they used, we say it's photoshopped.
If you are working on a Photoshop Software, it might take time for editing, so you can save the file as a .psd format that can be viewed or edited later.
Now, you don't need to worry if you don't have Photoshop Software. Whether you are working on PC or Mobile, you can view and Edit PSD File without Photoshop.
There are tons of Free ways to View and Edit PSD File. You'll get PSD File Viewer & PSD File Editor that will help you to View & Edit PSD File.
Also, there are many Photo Editor, Compressor and Converter that can help you to View and Edit PSD Files without having Photoshop Installed on your PC.
Here, I've shared 7 Methods to Open PSD Extension File Without Photoshop. With this method, you can also Open PSD File On Android Without Photoshop.
So, without wasting more time, let's proceed further and check out 7 Ways On How to Open PSD File Without Photoshop.
Also Read : How to Remove Xbox From Windows 10 (3 Methods)
How to Open PSD File Without Photoshop (7 Methods)
#1. GIMP
GIMP (GNU Image Manipulation Program) is one of the most popular and Best Tool which you can use to access PSD File Without Photoshop.
It is one of the Best Free Open Source Image Editor that supports .psd files. You can directly view or edit your PSD File with the help of this tool.
The Best thing about this Software is it is completely free to use and it can be used in GNU/Linux, Windows & Mac. You can download it for free and start editing your image.
Talking about its feature, it comes with Customizable Interface, Digital Retouching, Different File Format Support including PSD, Photo Enhancement, etc.
Key Features:
Customizable Interface
Photo Enhancement
Supports Many Different File Format
Digital Retouching
Support Platforms like GNU/Linux, Windows, Mac, etc.
Also Read : How To Password Protect Excel File (3 Methods)
#2. Paint
Who doesn't know about Paint? It is an In-Built Photo Editor in Windows. Apart from editing, Paint helps us in many ways like Copying Image, Taking Notes, Creating Banners, Drawings, etc.
Paint.NET is another tool in the list that can edit PSD File. Though it doesn't directly support PSD File, still it's very useful as you only need to download a plugin to use .PSD File Format.
Firstly, you need to Download PSD Plugin in order to use PSD File in Paint. After that, you need to Extract it and then Copy the Photoshop.dll file in the Paint Installation Path.
Now, you'll be able to Open PSD File In Paint. Though you'll not get all the Photoshop Features in it, still it's the Best Photoshop Alternative to View and Edit PSD File.
Key Features:
In-Built In Windows
Supports PSD Files after downloading PSD Plugin
Easy to Use
Save Files in different Formats
Tons Of Tools
#3. Google Drive
As you all know Google Drive is a File Storage Service where you can upload your files and share it on the internet. Apart from that, Google Drive also works as Photo Viewer to view Images.
With the help of Google Drive, you can easily View PSD File without any issue. You don't need Photoshop Software to view PSD File.
Though you cannot Edit PSD File on Google Drive, still its better to use it as Image Viewer instead of downloading any other Image Viewer.
To View PSD File, all you have to do is upload the PSD File to your Google Drive. Then Click and Open the file and it will work as Image Viewer and will open the PSD File.
Key Features:
Works as Image Viewer
No Download Required
Upload Files
Share PSD Files with Friends
Many other Format Support
#4. XnView
Don't have Photoshop? Don't Worry, here is another Tool for you. XnView is an Image Viewer and Converter where you can View & Edit PSD Files Without Photoshop.
It is a Freeware Image Organizer that allows you to browse, convert and edit your Image files. With this Software, you can view images in many ways including Thumbnail View, FullScreen View, Images Compare, SlideShow with FX, FilmStrip View, etc.
The Software lets you read about 500 Formats and export to over 70 formats including PSD. This Software also works best as File Format Converter.
Additionally, this Software supports Image Editing where you can Resize, Crop, Rotate, Adjust Brightness, Modify Color Depth, Apply Filters similar to Selfie Camera Apps, Apply Effects, etc.
Key Features:
Available for Desktop as well as Mobile
Photo Viewer
Edit Image Files
Image Converter
Can Read About 500 Formats and Export to over 70+ Formats
Also Read : 17 Less Than 10 MB Games For Android (Games Under 10MB)
#5. IrfanView
IfranView is somewhat similar to XnView where you can View PSD File easily. Though it might not support all the file format than XnView, still it can support all the important and most used file formats.
Apart from Viewing PSD File, you can do a lot more other things like File Converting, Optimizing, Scanning & Printing, Creating Slideshows and much more.
The Software is very Compact in size and comes under 3MB only. It is supported on many Platforms including Windows XP, Vista, 7, 8 and 10.
Moreover, this Software can perform many other tasks like Converting Files, Printing & Scanning, Creating Slideshows, Batch Processing, Multimedia Support, etc.
Key Features:
Compact in Size (Only 3MB)
Available for Windows XP, Vista, 7, 8 & 10
Image Viewer & Editor
Image Converter
Create Slideshow
#6. PhotoFiltre 7
PhotoFiltre 7 is another Best Image Retouching Program that allows you to edit your image and add tons of filters and effects to it.
This Tool is very powerful that can edit and apply filters to your photos. It also works perfectly fine with PSD File Format and other file formats.
Though you cannot edit PSD Files completely like Photoshop, still it's a better Alternative to Photoshop for basic editing and adding filters.
Furthermore, you'll get many basic tools including different sizes of Brushes, different Layers, different Erase Tool, Image Explorer, etc.
Key Features:
Supports PSD & Other File Formats
Tons Of Filters
Different Brush Sizes
Automatic Stoke & Fill Option
Different Erase Tool
#7. Go2Convert (Converting File Format)
This is not any particular tool or software but the method to View and Edit PSD File. With this method, you can Open PSD File Without Photoshop Online.
Basically, you have to Change the file format of the PSD (.psd) File into another format. Just like we have talked about it in our previous Article On How to Play AVI Files On Windows 10 (5 Methods). Here, we have changed the File Format from AVI to different file format.
Similarly, if you want to View PSD File, you can change it to PNG or JPG File format. After changing the file format, you'll be able to view the PSD File easily.
The method is simple, simply visit the site from the below link and upload your PSD File. Now Choose any of the file formats you want to convert to.
Key Features:
Support Multiple File Formats
Convert File to any Format
Supports 200+ Formats
Upload Files Up to 50 MB
Easy to Use
Also Read : How To Enable Blue Light Filter Windows 10
Final Words
This was the 7 Ways or say Software and Tools On How to Open PSD File Without Photoshop. Apart from this, there are many other Softwares and Tools that can help you to edit and open PSD Extension File but these are the most popular and best tools out of them.
Hope you liked this Article On Open PSD File Without Photoshop. Do Comment below if you have any query. Stay tuned with us for more latest Tricks & Updates.