How To Highly Compress Large Video Files Without Losing Video Quality
Are you a Youtuber? If you are a Youtuber then you might be fed up of uploading large video files on Youtube. Not only Youtubers but many of them might be fed up of Large Video Files. So, here we are back again with another Article on "How To Highly Compress Large Video Files Without Losing Video Quality."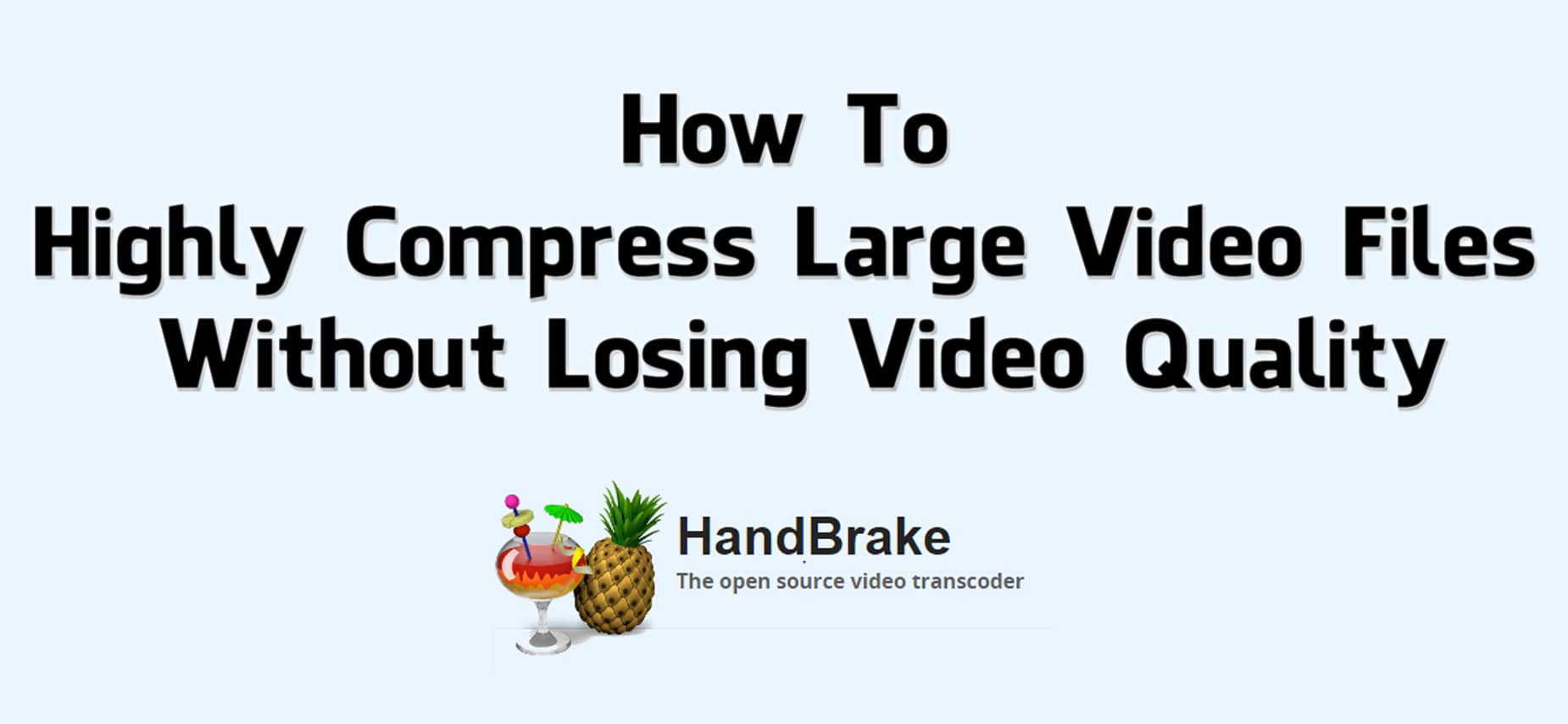 Uploading Large Files on the Internet or Sharing them with your Friends is quite irritating as it takes so much time. But do you know there are many ways through which you can Highly Compress your Video Files. You can Even Compress 1 GB Video To 10 MB Without Losing Video Quality.
Uploading Video on Youtube for 2-3 hours is quite difficult if you don't have High Internet Speed. But here in this Article, I'm going to tell you How you can Highly Compress Large Video Files without losing Video Quality.
There are many Softwares available on the Internet through which you can Compress your Video Files but the best one which I use is HandBrake. HandBrake is a Software which Highly Compresses your Video Files.
Also Read : How To Check Who Viewed Your Facebook Profile
What Is HandBrake?
HandBrake is a free and open-source video transcoder, originally developed in 2003 by Eric Petit (a.k.a. "titer" from his SVN repository username) to make ripping a film from a DVD to a data storage device easier.
It is a Sofware which Highly Compress your Video Files from 1 GB to 10 MB. It is a tool for converting video from nearly any format to a selection of modern, widely supported codecs.
Features Of HandBrake
Title/chapter and range selection
Batch Scan and Queueing of encodes
Chapter Markers
Subtitles (VobSub, Closed Captions CEA-608, SSA, SRT)
Constant Quality or Average Bitrate Video Encoding
Support for VFR, CFR and VFR
Video Filters: Deinterlacing, Decomb, Denoise, Detelecine, Deblock, Grayscale, Cropping and scaling
Live Static and Video Preview
How To Highly Compress Large Video Files Without Loosing Video Quality?
Download HandBrake Software From Here : Download
Once you Download, Install & Open the Software.
Now Click on Source from Top Left Corner & Select the Video which you want to Compress.
Now Click on Browser & Select the location where you want to save your Video.
Once you are done, Click on Start.
Now it will take around 5 – 10 Minutes to Compress the Video.
After it's done, you can Check the Video Size & Quality.
Video Size will Highly Compress & Quality will remain Same.
Also Read : How To Turn Your Phone Into A Keyboard & Mouse To Control Your Computer
Video Guide On How To Highly Compress Large Video Files Without Losing Video Quality
Hope you Enjoyed this Guide on How To Highly Compress Large Video Files Without Losing Video Quality. This can be also used as a Video Compressor For WhatsApp. If you are Stuck at any point feel free to comment below. Stay tuned with us for more latest Tricks & Updates.
---
---