Trick To Get High Speed Internet 500 MB+ Per Sec Using Rabb.it
Do you use Internet? Yes, Everyone uses internet nowadays. We are living in the world where we cannot live without the Internet. Use of Internet is increasing day by day. Each and every person uses the Internet & cannot live without it.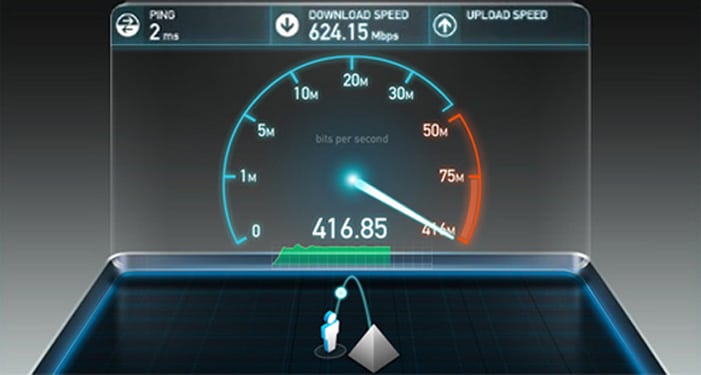 We all use Internet in our daily life but it may of may not be a Fast Internet. We all are using Internet, but all have a common problem of Internet Speed. We don't get a Good Internet Speed due to which we can't get a proper use of our Internet.
Many of you might have searched for How to Get High Speed Internet but have no idea about it. Also, there are many methods through which you can Increase your Internet Speed. But here is the easiest way through which you can Get high-Speed Internet very easily.
So, here in this Trick, I'm going to tell you How to get High-Speed Internet 500 MB+ Per Sec Using Rabb.it Using this Trick you can Get High Speed Internet and you can also Check your Internet Speed using Speed Test App.
Also Read : How To Check Who Viewed Your Facebook Profile
What Is Rabb.it?
Rabb.it is a website for chatting that also lets you use your webcam, microphone or text only. But, it's not just for the purpose of text or video chatting, it provides something more than this. You can also use Rabb.it as a browser to browse the internet at a high-speed. A startup was originated a few years back called Rabb.it with the aim of rendering quality video chatting experience for all the users.
Rabb.it is a Remote Desktop with a browser where you can surf all over the Internet with High Internet Speed. You can do almost everything with this site, and you can surf anything at a Fast Speed. You can also enjoy watching your favorite videos on Youtube, Netflix, Hulu, etc. instantly without any kind of buffering.
Features Of Rabb.it:
You can have an interactive chat session with your friends and beloved ones both text and video chat.
You can communicate with everyone worldwide and share content.
Using Rabb.it, you can enjoy watching movies, TV shows, and other YouTube videos together.
It is absolutely flawless and FREE to use.
You can acquire high-speed internet.
It also provides a feature called as "Rabbitcast" in which you can browse any website and play videos quickly.
How To Get High Speed Internet 500 MB+ Per Sec Using Rabb.it?
Visit Rabb.it Site on your Computer or Laptop From Here : Click Here

Now Click on Signup & Enter Required Details like Name, Email, Password, etc.
Confirm your Account by Email Verification.
After Successful Verification, you will be asked: "How do you want to Rabbit." Just Click on Messages Only.
Now you have Entered your Room.
Now Click on Decide what to watch.
Now a Pop up will appear where you can select what you want to watch or you can manually Enter the Search terms.
Now you can Surf the Internet or watch Youtube Videos at High Speed. You can also Increase the Quality of the video to HD from bottom of the page.
Now you can use this as an ordinary computer with a High Speed Internet.
You will be on the Virtual Desktop but can do whatever you want.
Also Read : How To Turn Your Phone Into A Keyboard & Mouse To Control Your Computer
Advantages Of Rabb.it:
Surf Internet at High Speed.
Watch Youtube Videos without buffering.
You can use Rabb.it in Flash Sale.
Communicate with everyone worldwide and share content.
Disadvantages Of Rabb.it:
As its a Remote Desktop, Quality is somewhat bad.
You cannot Download any kind of stuff directly on your PC or Laptop. But you can just download on that Virtual Desktop and you can upload it to your Google Drive or Dropbox using that Virtual PC.
You may not get extremely high-quality content or videos although there's an option of HD quality.
Suggested Read:
Final Words
Hope you Enjoyed this article on How To Get High Speed Internet 500 MB+ Per Sec Using Rabb.it. Use Rabb.it & Enjoy High Speed Internet on you Desktop. Comment below if you have any query. Stay tuned with us for more latest Tricks & Updates.