Crash Your Friends Browser By Sending Simple Link (100% Working)
Are you looking to Crash your Friends Browser? Do you want to Prank your Friend by Crashing their Web Browser? If Yes, then this Article is for you. Today I am going to Share How you can Crash your Friends Browser by Sending Simple Link.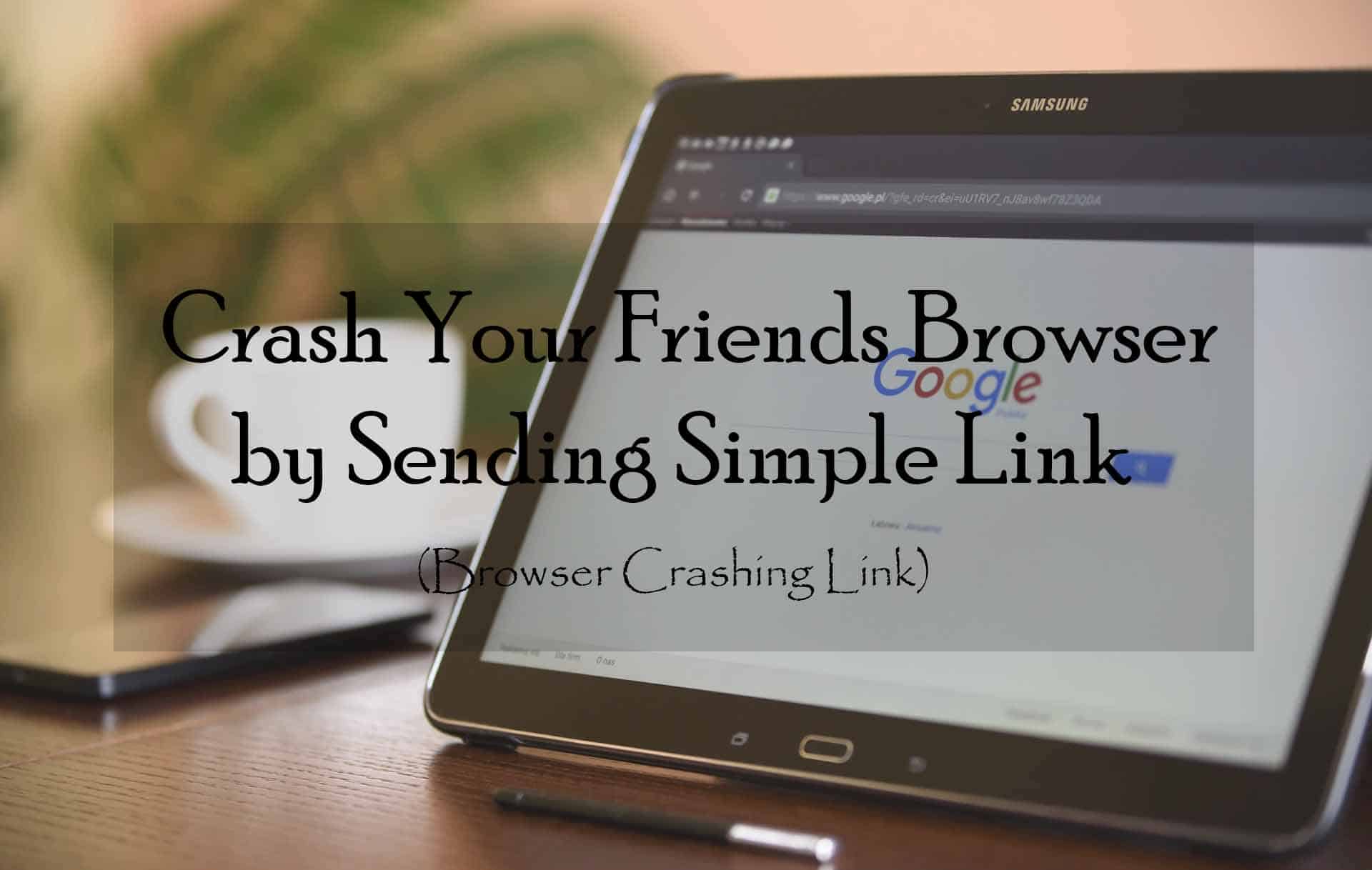 There are many different ways to Prank your Friends like Replying Automatically On WhatsApp, Chatting With US Number, Creating Fake WhatsApp Conversation, etc. but here I am going to Share about Crashing Friends Browser.
There are many Virus Link to Send that will crash and hang your friends Browser but this method is completely safe and doesn't contain any Virus. Below I've shared How this method actually works.
How Browser Crashing Link Works?
The method is simple and the link doesn't contain any virus. In this Link, For Loop Script is added which continuously runs the script once the link is opened. Now, when the Script Runs Continuously, it causes the browser to stop working, hence it hangs the Browser.
Note : This link will only work if the Javascript is on in your Friends PC (It's Already On in most of the cases) & This link will not work in lower browser that doesn't support Javascript like UC Mini.
How to Crash Friends Browser by Sending Simple Link?
Firstly, Copy the Browser Crashing link from here: https://www.trickxpert.com/crashtool.html
Now, Share it with your Friends on WhatsApp, Facebook, Messenger, Hike, Telegram or anywhere you want.
Once your friend clicks on the link, his/her browser will start crashing.
They won't be able to close their browser for almost 1 – 5 minutes depending on the device.
Within few minutes, their PC will be normal or in some cases, they have to Restart their Device.
Note: This Link Clearly Says that it's a Crashing Tool, So, you can use any URL Shortener like goo.gl or bit.ly to hide the real URL, else I've also shared the Shorted URL below that you can use.
How to Send Browser Crashing Link to your Friends
As this is a Prank Link, you can send it on his/her Birthday to Prank them. You can also send this link in the month of April as April Fool Day.
Also, you can send on Someone's Birthday, Anniversary or any Special Day to Prank Them. Here is the way you can send them this Fake Virus Link / Prank Link.
Happy B'Day! Here is a Special Gift For You – http://bit.ly/2TNLaAs
What to do if I crashed my own Browser?
If you have clicked the link by mistake, then your Browser will be crashed as well. To Recover from it, you can wait for sometimes and Restart the Browser / PC.
After Restart, your Browser will be normal and you are now ready to Prank your Friends.
Here's How What will Happen When your Friend Opens the Link
Warning – This Link is only for Fun Purpose, Misuse of this link can cause you in trouble. So, try this at your own Risk
Suggested Read:
Final Words
This was the Fun Article On How to Crash Friends Chrome Browser or any other Browser. I personally tried this method and works on most of the browsers. It works best in PC Chrome Browser than on Android Phones. You just have to Share this Fake Virus Link Prank to your Friends to Prank them by Crashing their Browser.
Apart from this, there are many other Android Text Crash Code that you can send to Crash Browser but this is one of the best and easiest method you can try. So, if you were looking for How to Crash Someones Phone or Browser, hope you have got your answer.
Hope you liked this Article On How to Crash Friends Browser. Do Comment below if you have any query. Stay tuned with us for more such Tips & Tricks.