Trick To Create WhatsApp Group Invite Link
Hey Readers, here we are back with another trick through which you can create whatsapp group invite link. As you know WhatsApp is the trending messenging App which is used World Wide by every users. It is one of the most downloaded instant messaging app today. More than 1 Billion Active users use WhatsApp WorldWide.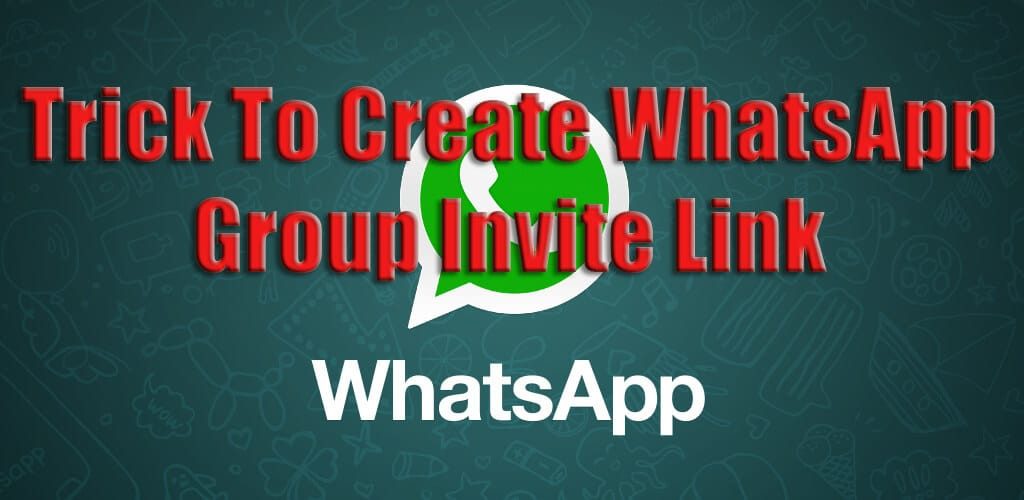 In this guide I'm going to tell you how you can create whatsapp group invite link. If you have created a WhatsApp Group, & you want to add many people, but it is very difficult to add contact to Whatsapp group because before adding a member in the group you have to save his/her contact in your mobile. Without saving his/her mobile number you cannot add him/her into your Whatsapp group.
So, in this tutorial I'm sharing the trick to create WhatsApp Group Invite Link. With this tutorial you can create a link & share it anywhere, if anyone click on that link from his/her WhatsApp Mobile then they are able to join your WhatsApp Group. Now it's easy to add people in WhatsApp Group, cause you just need to share one link anywhere & when someone clicks on that link they will be able to join your WhatsApp Group.
Also Read : Crash Friends WhatsApp By Sending Unlimited Messages
Advantage Of WhatsApp Group Join Link Method
This trick have many advantages, checkout some of the benefits of creating WhatsApp Group Invite Link.
Time-saving, Don't need to save contacts in mobile phone.
Anyone can join with your link
No member approval need
Disadvantage
Anyone Can Join Your Group & Spam It.
To do this Trick you need to download GBWhatsapp.
Whats Is GBWhatsapp?
Gbwhatsapp Is Like Whatsapp which is used to Make Two Whatsapp Account In Signal Android Phone With Different Mobile Numbers. GB Whatsapp Comes with lots of Features, and much more improvements. Personally I am also using this GB Whatsapp, Rather than using Original Whatsapp App. This GB Whatsapp Comes with Lots of Cool Features, privacy, and support themes. We can Customize this app with our own choice. We can also use this app with our real whatsapp, so we will be able to use 2 Whatsapp Accounts easily in our Android Device with this app.
Features Of GBWhatsApp:
There are many features included in this app, which you can use on your device. These apps comes with lots of features & themes. Have a look at the some of the common features of this GBWhatsapp, which you will get in it after you install this in your Android device.
Disable calls for Specific Contacts
Send GIF Images
Hide Last Seen For Specific Contacts
Privacy modes like Hide, Second Tick, etc
Apply any theme of you choice
Hide your Last Seen in One Click
There are lots of features of GBWhatsapp, these are some of them. You will get lots of feature of GBWhatspp.
How To Create WhatsApp Group Join Invitation Link
Firstly Download GBWhatsapp From Here.
After download, Verify you Mobile Number.
Now open the group for which you want to create Join Invite Link.
Now Goto Group Info.
Now click on Add Member Button from top right corner.
Now Click On "Invite To Group Via Link".
Now Share the link with your friends or anywhere you want.
After clicking on the link your friend will get an Pop up – Do you want to join the group.
You friend have to click on Join Group & Accept your Invitation to Join the Group.
Done! Now anyone can be able to join your WhatsApp Group Just by click one link.
NOTE: Make a Backup of your Original Whatsapp data before Installing GBwhatsapp. This trick is Only for Educational purpose. We are not responsible for any kind of loss.
Also Read : Create Fake WhatsApp Account With US Number
Final Words
This was the Article On How to Create WhatsApp Group Invite Link. Comment below if you have any query. Stay tuned with us for more latest tricks & Updates.