BHIM App Launched : How To Send / Receive Money Through UPI [Full Guide]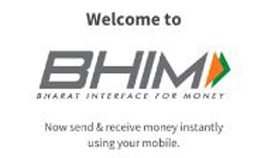 BHIM (Bharat Interface For Money) has been launched by our Honorable Prime Minister Shri Narendra Modi For Digital E-Payment & Cashless Transaction. BHIM is developed by the National Payment Corporation of India (NPCI). BHIM is made in India and dedicated to the service of the nation.
Bharat Interface for Money (BHIM) is an initiative to enable fast, secure, reliable cashless payments through your mobile phone. BHIM is interoperable with other Unified Payment Interface (UPI) applications, and bank accounts. BHIM is developed by the National Payment Corporation of India (NPCI). BHIM is made in India and dedicated to the service of the nation.
How To Register & User BHIM App?
Download BHIM App From Here : Download

Once you download, Open the App.
Now Select your preferred language & click on Next.
Now Select your Sim & Proceed further.
Verify your Mobile Number.
Enter your Passcode of 4 Digit.
Again Enter your Passcode of 4 Digit for confirmation.
Now Select your Bank from the list of available banks that support USSD And UPI.
Enter your Card Details to Verify your Account.
Done!
How To Send / Transfer Money To Any VPA?
Login to your BHIM App using Passcode which you have set earlier in the process.
Now click on "Send Money" Option.
Now Just add The "UPI" Address of the Person you want to Send the Money.
Now Enter the Amount you want to send.
Click On Pay and Your Money Will Be Instantly Transferred in Other Banks Account.
Specifications & Features Of BHIM App:
Send / Receive Money:
Send money to or receive money from friends, family and customers through a mobile number or payment address. Money can also be sent to non UPI supported banks using IFSC and MMID. You can also collect money by sending a request and reverse payments if required.
Check Balance:
You can check your bank balance and transactions details on the go.
Custom Payment Address:
You can create a custom payment address in addition to your phone number.
QR Code:
You can scan a QR code for faster entry of payment addresses. Merchants can easily print their QR Code for display.
Transaction Limit:
Maximum of Rs. 10,000 per transaction and Rs. 20,000 within 24 hours.

Language supported:
Hindi and English. More languages coming soon!
List Of Supported Banks On BHIM App:
– Allahabad Bank
– Andhra Bank
– Axis Bank
– Bank of Baroda
– Bank of Maharashtra
– Canara Bank
– Catholic Syrian Bank
– Central Bank of India
– DCB Bank
– Dena Bank
– Federal Bank
– HDFC Bank
– ICICI Bank
– IDBI Bank
– IDFC Bank
– Indian Bank
– Indian Overseas Bank
– IndusInd Bank
– Karnataka Bank
– Karur Vysya Bank
– Kotak Mahindra Bank
– Oriental Bank of Commerce
– Punjab National Bank
– RBL Bank
– South Indian Bank
– Standard Chartered Bank
– State Bank of India
– Syndicate Bank
– Union Bank of India
– United Bank of India
– Vijaya Bank
So Start using BHIM App & Start doing Cashless Transaction. Your mobile number is your payment address (PA). You can send / receive Payment using your Mobile Number. Comment below if you have any query. Stay tuned with us for more latest Tricks & Updates.
---
---