11 Best Ludo Games For Android & iOS
Are you looking for a multiplayer game to play with your friends? Ludo Game will be perfect in this case. But wait, there are hundreds of games like ludo that might confuse you. So, here in this Article, I'm going to share Top 11 Best Ludo Games For Android & iOS.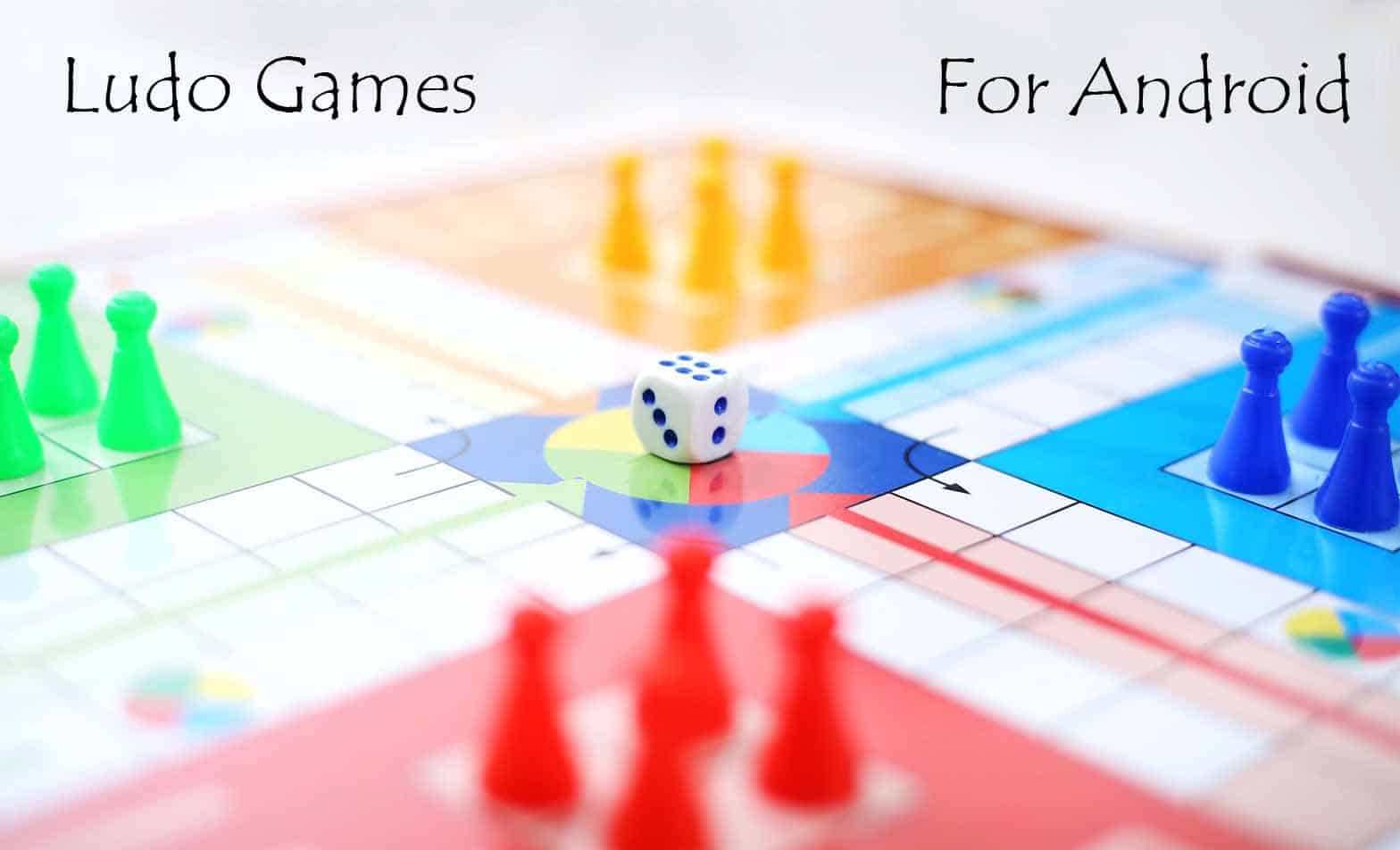 Whether it's a Chess Game or Ludo Game, you'll need at least 2 players to play the game. But, don't worry if you want to play single player game as it comes with AI bot to play with it.
Ludo is a strategy board game for 2-4 players in which players race their 4 tokens from start to end by rolling the dice. Whoever reaches their all 4 tokens in the end, will win the Ludo game.
I don't have to explain much about Ludo game as you might have played it a lot of time on a real Ludo board and now it's time to play it on your Android Phone.
There are many dice games, and ludo is one of the best dice game for android.
So, without wasting more time, let's proceed further and check out 11 Best Ludo Games For Android & iOS.
Suggested Read:
11 Best Ludo Games For Android & iOS
#1. Ludo King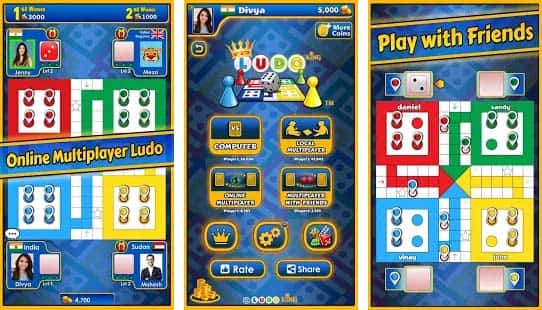 Ludo King stands at the first place in the list due to its popularity and amazing features. The app is highly popular and has millions of downloads with 4.4 ratings on Play Store.
The game has 4 different options to play with including Playing with Computer, Local Multiplayer, Online Multiplayer and Multiplayer with Friends. Apart from Ludo, it also comes with Snakes and Ladders games which is another plus point.
It has auto move system so that no one can cheat and if you get a call, no worries, cause you can resume the game where you left. Apart from this, you can also chat with your friends while playing this game.
Key Features:
Online Multiplayer Game
Play with Computer or Friends
Inbuilt Snake & Ladder Game
6 Players Ludo Game
Online Leaderboard
Chat with your Friends
Save/Load Option
#2. Ludo Classic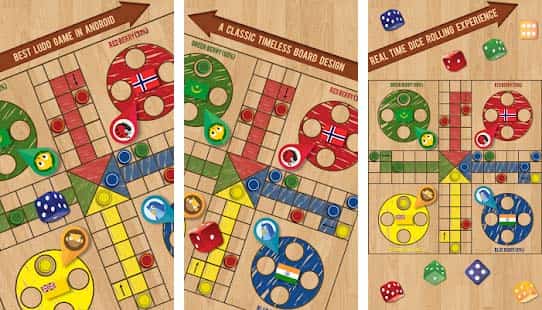 Ludo Classic is another good ludo game app for Android. The game can be played offline with the bots or online with your friends.
In this game, you'll get a wooden background with sketch theme. You can also adjust the game settings and board settings in the game.
Here, you can select from 3 different boards including wooden board, white board and paper board. You can also set dice type, board type, different color dices, dice rolling effect, etc. Overall, this is another Best Ludo App for Android.
Key Features:
Simple and Easy to use Interface
Online & Offline Game
Play with Local Friends
3 Different Boards
Multiple Game Settings
Bluetooth Gameplay Option
#3. Parchisi STAR Online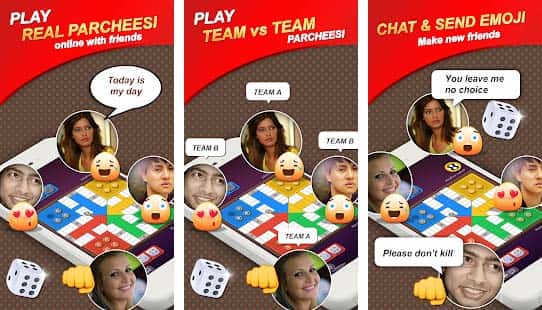 As the name says, this is an online multiplayer ludo game that can be played from anywhere in the world.
This game is specially designed for players who want to connect with friends and play together. It has an inbuilt chatting option and awesome Emojis to send in the game.
Moreover, you can play the game daily and unlock many achievements. Overall, this is another Best Ludo Game For Tablet & Phone.
Key Features:
Play with Real Players
Unlock Many Different Achievements
Chat with Friends & Send Emojis
Designed for Phone & Tablet
2 or 4 Player Game
Also Read : How To Play PC Games On Android
#4. Ludo Game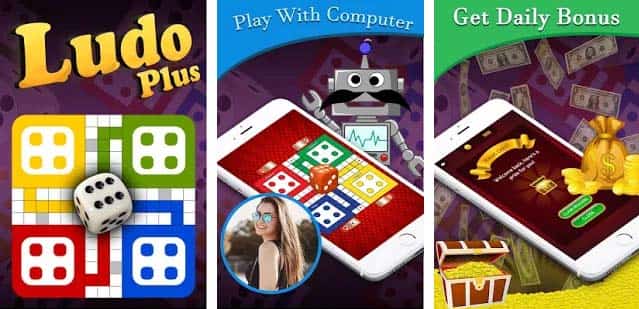 This is another best ludo game app in the list. It can be played online with many players from the world and even with your friends in local multiplayer.
The game can be played between 2-4 players. It also has a single player mode where you can play with AI computer.
Talking about the features, it comes with local online multiplayer and worldwide multiplayer, multiple color tokens, game against computer, etc. This is another Best Free Ludo Game for Android.
Key Features:
Play with Friends or Computer
2 – 4 Player Ludo Game
Worldwide Mutiplayer
Local Multiplayer
Daily Bonus
#5. Ludo 3D Multiplayer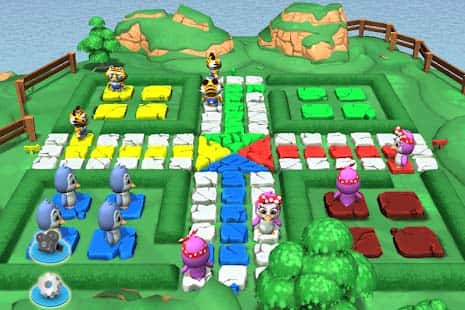 Looking for a 3D Ludo Game for Android? This one could be perfect for you if you want a 3D Ludo Game.
This is a 3D game with multiple unique themes. Instead of regular tokens, here you have to select characters from Snowman, Platypus, Bear, Croc, etc.
It is very different game from any other app and the unique theme makes it more interesting to play. It's just like real characters are playing in the game.
Key Features:
3D Ludo Game
Play with Friends or Computer
Unique Themes
Multiple Language Support
Play with combination of Human & Computer
3D Characters & Boards

#6. Ludo Championship
Ludo Championship is another perfect 4 player ludo game for your Android phone or tablet that comes with many features in it.
It comes with 3 different boards, 16 language support, 1-4 players game, achievements and leader boards, and many other features.
Unlike other ludo games, here also you just have to tap on the dice to roll and select the token you want to move. The one who takes all the tokens to the end will win the game.
Key Features:
Simple & Easy to use Interface
1-4 Player Game
16 Supported Language
3 Different Boards
Achievements & Leaderboards
Mobile & Tablet Mode
Also Read : 11 Best Paytm Cash Earning Games
#7. Ludo Party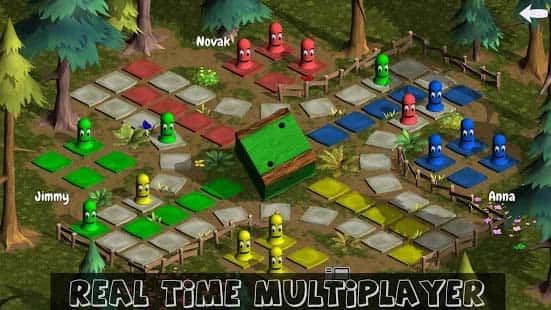 Another best 3D ludo game in the list is Ludo Party. This is a 3D animation ludo game with 6 different maps to play on.
In this game, you can play multiplayer from the players across the world or with your friends near you. It supports up to 4 player game and if you are alone, you can play against 3 computer bots.
This is a real time multiplayer game the requires an internet connection to play. In case you lose your internet connection while playing, you can return back to the game where you left.
Key Features:
Real-Time Multiplayer Game
Play Against Friends or Computer Bot
3D Multiplayer Game
3D Animations
6 Different Maps to Select from
World Ranking
#8. Ludo Club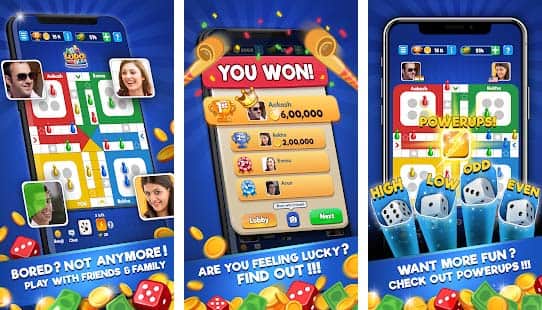 This is another fun dice game or say ludo game where you can connect with your friends and play multiplayer ludo game.
You can play this game either with your friends or with computer bot. It also has emojis and chatting options in the game to make it more entertaining.
Apart from this, if you play this game daily, you will be reward with many amazing rewards. Also, the game is available in many different languages including English, Hindi, Portuguese, etc. to play it worldwide.
Key Features:
Play with Online Friends or Computer AI
Multiple Language Support
Smoothly Runs on 2G, 3G & 4G Network
Chat with Live Players
Get Daily Bonus
Offline & Online Mode
#9. Ludo 2019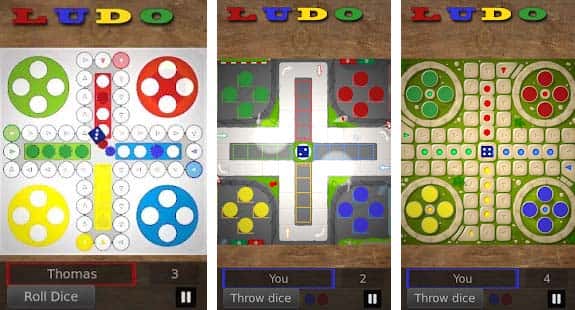 Ludo 2019 is the latest version of this ludo game where you can play with your friends or against computer.
It also has many different languages (11 Languages) to select from which makes it easy to access all the players from worldwide.
If you want to play with computer, you can select from 3 difficulty levels; Easy, Medium & Hard. It comes with a user-friendly interface and this is a good classic ludo board game.
Key Features:
Play against Computer or your Friend
11 Language Support
3 Difficulty Levels
User Friendly Interface
Auto Save Game
Phone & Tablet Support
Also Read : (Best) 11 Apps to Earn Money By Playing Games On Android
#10. Ludo Online (Mr Ludo)
Ludo Online is an online ludo game that comes with multiple unique themes such as office, beach, space, etc.
This is basically a 3D Multiplayer Ludo game where you can play on many awesome themes that you select. It also has offline ludo game mode for the one who doesn't have an active internet connection.
Additionally, you'll get many other features in this game including 6 different environments, leaderboards, offline mode, additional express mode, super emoticons, etc.
Key Features:
3D Ludo Game
6 Different Enviroment
Offline Mode
Leaderboard
Additional Express Mode
Unique Board Themes
#11. Ludo Game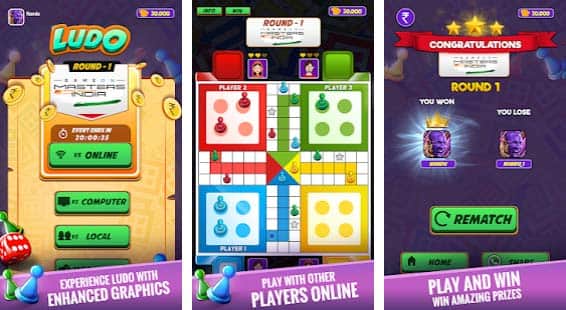 Last but not the least, this is another best ludo classic game for Android in the list where you can play with your friends or online with the world.
This is a very simple and classic ludo game where you can select your token, then select game mode and start playing.
So, whether you want to play ludo game with computer or your friends, you can go with this Best Android Ludo Game.
Key Features:
Single & Multiplayer Ludo Game
Classic Mode
Online & Offline Mode
Multiple Game Mode
Play with your Friends or Computer
Top the Leaderboard
Related Articles:
Final Words
This was the Article On 11 Best Ludo Games For iOS & Android. Apart from this, there are many other Ludo Games but here I've shared the most popular and Best Ludo Game App for Android & iOS Platform.
Hope you liked this Article about Best Ludo Games. Do Comment below if you know any other Best Free Android Ludo Games. Stay tuned with us for more latest Tricks & Updates.