Hosting Your Own Gambling Website Using WordPress
At one level or another, everybody loves to gamble. It is excitement. It is a thrill. It does not matter if you are hosting a fun social gambling night at your local church to raise money to feed the hungry, playing poker with your friends on a Friday night, or exploring one of the many online gambling websites looking for a great jackpot casino – as long as you don't gamble more than you can afford to lose, it is okay to have some fun.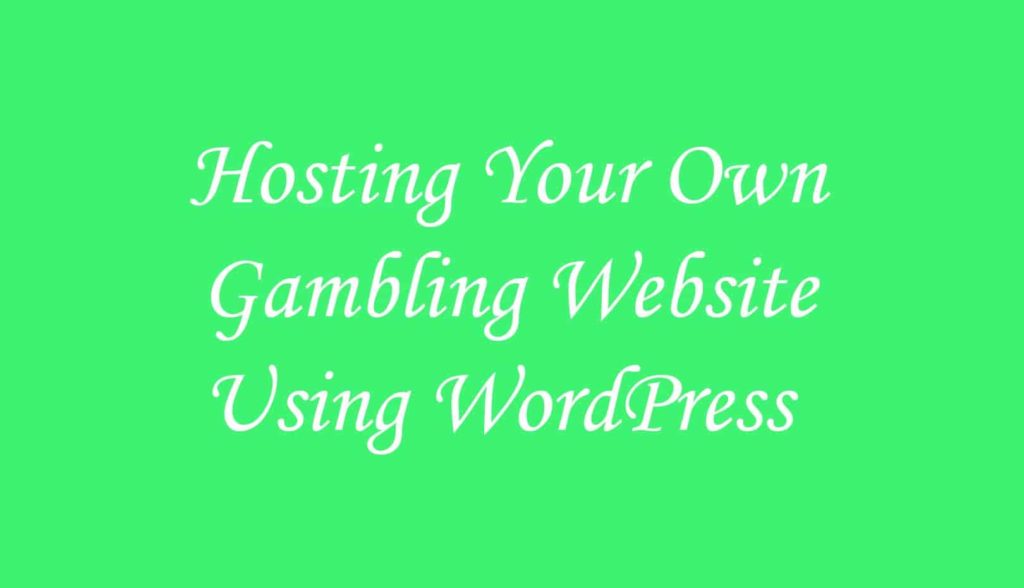 But have you ever thought about hosting your own online gambling website using WordPress? Here are some tips and tricks to help you get started.
How to Host Your Own Gambling Website Using WordPress
WordPress Plugins
On WordPress's main site, there are several plugins that can be fun add-ons to a simple online gambling website or to add some pizzazz to your social WordPress site.
Restricted to Adults – Due to the fact that gambling is not appropriate for children, the Association of Sites Advocating Protection has developed the Restricted to Adults (RTA) tag which most online protection software respects. The Restricted to Adults plugins allows a WordPress administrator with one click to properly tag their website as an Adult Only website.
Blackjack – This is a simple plugin that presents an attractive Blackjack game to your readers. It is based on HTML5 and JQuery. The whole game is played in the reader's browser. Nothing is stored in the database.
API for Poker Mavens – Poker Mavens is an affordable play-money poker software that allows anyone to run their own private poker site. Simple shortcodes can get you started.
Football API Service – This plugin provides reliable soccer data feeds to add to your WordPress blog.
JoomSport – Manage your sports teams with this plugin: sport league standings, fixtures, sports teams with descriptions, match history, statistics and photos, players with their profiles, photos, and personal achievements.
Sports Prediction for JoomSport – This plugin works in conjunction with JoomSport to allow readers to gamble on their favorite local teams.
FA Sports Odds – A simple way to display sports odds on your website. The following sports are supported: Soccer, Basketball, Football, Tennis, Baseball, Ice Hockey, Specials, Handball, Rugby, Golf, Snooker & Pool, Motor Racing, Darts, and more. Special events, like US Elections, are being added all the time.
WP Poker Tournaments – Creates a list of upcoming poker tournaments.
Online Games – Add fun online games to your website: World Cup Penalty, Snooker, Call of Duty Crossfire, Car Twisted Dreams, Dragonball 1, Happy Wheels, Royal Reels, and many, many more.
Restricted Site Access – This plugin restricts your website to users who are logged in or certain IP addresses.
WordPress Themes
Now you need to pick your WordPress theme.
MercuryLite – The MercuryLite theme is great for a website or blog about casinos, gambling, or traveling. It has a fully responsive design, floating header, and a drop-down three-level menu. You can choose any basic color through customizing.
Affiliate Newspaperly – Newspaperly is designed for blogs, magazines, newspapers, and writers in general. Lots of space for ads, and editorial content in fashion, travel, lifestyle, technology, online gambling, and more.
Images
Don't forget to include images. The following are some resources for public domain clipart and pictures
Public Domain Vectors – This website has public domain svg files including images for poker, roulette, cards, and more.
Flickr – images in every topic
Content
Last, but not least is the content of your WordPress blog … well, that is up to you the WordPress Blog writer, but here is something to get you started from the book, "Poker Bible" – The Golden Pot"