How To Transfer Or Send Money Using Paytm Wallet Without Internet
Hey Readers, after so many Free Recharge & Offers here we are back again with another trick through which you can transfer/send Paytm Cash without Internet. Now anyone can send Paytm Cash without using Internet.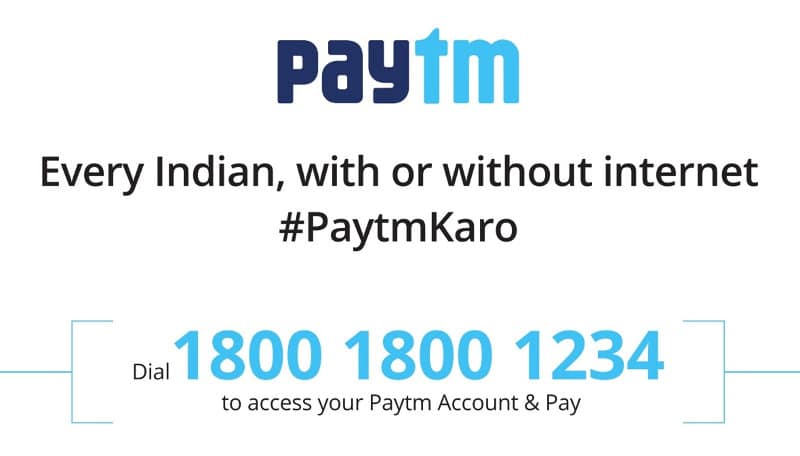 Digital payments platform Paytm has announced a toll-free number 1800-1800-1234 to enable consumers and merchants to pay and receive money instantly and also recharge their mobile phones without the use of an internet connection. It said this will empower millions of non-smartphone users to go cashless even without a smartphone.
Go Cashless using Paytm Wallet, Send & Receive Paytm Cash without Internet. So, let's proceed further and check out How to Transfer or send Paytm Cash without Internet.
How To Transfer Or Send Money Using Paytm Without Internet:
At First, You Have To Set M-Pin For Secure Paytm Transactions Without Internet.
How To Set M-Pin?
Open your Phone DialPad & Dial this Number : 1800 1800 1234
Once you dial above Number, Click On Call.
Once your call gets connected, it will be disconnected within 5 seconds.
Now you would receive a call within 2 minutes.
Select "1 For Hindi / 2 For English".
Now Enter your 4 Digit Pin which you will need to authenticate your further transactions.
Now Select 1 to Confirm.
Finally, Disconnect the call.
How To Send Money Without Internet?
Open your Number & Dial the Number : 1800 1800 1234
Enter the Mobile Number you want to Send Money.
Enter the Amount you want to Send.
Enter Your M-Pin which you Registered Earlier.
Done! Your Transaction is Successful.
This is the new Initiative by Paytm as they have launched a Number to Transfer / Send Paytm Cash From One Account to Another Without Any Internet Connection. This is an awesome feature for those who don't have Internet.
Hope you enjoyed this awesome feature from Paytm through which you can Send Paytm Cash without Internet. Comment below if you have any query. Stay tuned with us for more latest Tricks & Updates.
---
---