OnePlus Best Smartphone Contest : Win Rs.1000 Amazon Voucher Or Get A Chance To Win 1 Crore
Hey Readers, after so many Free Recharge & Offers here we are back again with OnePlus Best Smartphone Contest through which you can Win Rs.1000 Amazon Voucher or One Plus 3T SmartPhone or Get a chance to Win 1 Crore Rupees.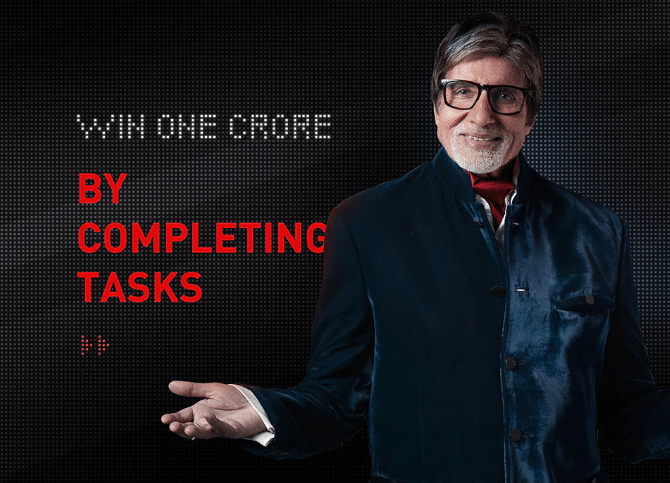 After OnePlus 3T December Dash, One Plus is back again with it's another Best Smartphone Contest through which you can win Rs.500 / Rs.1000 / Rs.2000 Amazon Voucher or OnePlus 3T Smartphone or Get a chance to Win 1 Crore Rupees. So, let's proceed further and check out How To Participate In OnePlus Best Smartphone Contest.
How To Participate In OnePlus Best Smartphone Contest?
Firstly, Signup At OnePlus Store Page From Here : Click Here

Now you will see the Enter Button, Just Click on it.
Login or Signup to your new OnePlus Account & Link it with Facebook Or Twitter.
Once You are Logged In, You Will See "Play Now" Button, Just Click On it.
You Have To Complete total 6 Task In Regular Intervals, Every New Task On Every Wednesday.
First Task – You Will Get The Question Of India's Best Rated SmartPhone – Just Simply Answer The "OnePlus 3T" & Click On Read T&C and Submit.
Now Just Share The Contest Link On Facebook or Twitter.
After Sharing, you will get 200 Points Instantly.
You have to complete your remaining task weekly to get more points.
You can Redeem your Points in the form of Amazon Voucher.
OnePlus Best Smartphone Contest Task:
OnePlus Best SmartPhone Contest
Task Name
Date To Complete
Task 1
Spread The Love
9 March – 15 March
Task 2
Find the hidden OnePlus 3T
15 March – 22 March
Task 3
Dash Charge-Watch a video and answer a question
22 March – 29 March
Task 4
Complete a jigsaw puzzle from the Shot on OnePlus collection and share
29 March – 04 April
Task 5
Core Value-Un-jumble the OnePlus slogan
04 April – 12 April
Task 6
The Final Countdown
What would you do with Rs. 1 crore? Share your response
12 April – 19 April
Full Guide To Play OnePlus Best Smartphone Contest:
1. Sign up using your OnePlus account, answer the 'best rated smartphone' question and connect using your social media account in order to proceed with the contest.

2. Weekly tasks:

New tasks added every Wednesday. Complete as many tasks as you can every week to earn points.
The maximum points you can earn on each individual weekly task is 200.

3. Methods to get lucky draw ticket:

A person can participate in the Best smartphone contest by buying the OnePlus 3T from official channels including Amazon.in, OnePlusStore.in and OnePlus Experience Store and winning a Dash Pass to the lucky draw for the Grand Finale. The rules and regulations through this channel shall be governed by respective channel partners.
Please note: Lucky draw ticket is only valid for a single purchase from one account.
Redeem your points to get lucky draw ticket and participate in the lucky draw and be one of 10 finalists in the run to win the 5 golden tickets.

4. Redemption Shop:

Redemption shop opens every Wednesday starting 30th March, 2017 and gift cards are up for grabs on first come first serve basis only.
In case of no reply or inability to participate in the final round from any of the 10 lucky draw winners, their entry will lapse and passed on to another user who will also be selected basis a random draw.

5. Winners of the lucky draw will then be inducted into the final round, details of which will be shared at a later stage. 5 of these winners will get a golden ticket and meet Amitabh Bachchan for a chance to win Rs. 1 crore cash prize. The other finalists will win the OnePlus 3T.
Prizes:
OnePlus 3T: The Top 10 of Leaderboard Challenge
Amazon Gift Card: Redeem with points
Lucky Draw Ticket: Redeem with points
Points:
Points can be obtained by completing 6 weekly tasks: 200 points for each task, maximum 1200 points. The weekly task is unlocked every Wednesday from March 9th to April 12th.
800 points can redeem Rs. 500 Amazon Gift Card;
1000 points can redeem Rs. 1000 Amazon Gift Card;
1200 points can redeem Rs. 2000 Amazon Gift Card or Lucky Draw Ticket.
Week
No. of gift cards
Unit Value
Points needed
Total Amount
Week 4
5000
500
800
2500000
Week 5
3000
1000
1000
3000000
2500
500
800
1250000
Week 6
1000
2000
1200
2000000
2500
500
800
1250000
N/A
Lucky draw ticket
1200
N/A
Rules Of The Contest:
Participants must invite new users to participate in the 'Best Smartphone Contest' to be eligible for the leaderboard challenge.
The leaderboard challenge will start on 9th March, 2017 and end on 19th April, 2017.
Each participant will be given a unique URL which they can share through email, social media, SMS etc. with their friends and invite them to participate in the contest using that unique URL.
For every new user invited, participants advance further up on the leaderboard.
Participation of new user through URLs gets recorded once the new user enters the 'Best Smartphone Contest' from the frontpage of 'Best Smartphone Contest'.
The top 10 users with most invitees against their URLs win OnePlus 3T gunmetal 64GB phones.
In the event of a draw for these top 10 spots, OnePlus India reserves the right to choose the winner at their discretion.
Enjoy this Best Smartphone Contest & Win Rs.1000 Amazon Voucher Or Get OnePlus 3T Smartphone Or Get A Chance To Win 1 Crore. Comment below if you have any query. Stay tuned with us for more latest Tricks & Updates.
---
---