Ekart Courier Loot : Get Free Rs.250 Flipkart Voucher By Sending Courier Through Ekart
Hey Readers, after so many Free Recharge & Offers here we are back again with another offer through which you can get Free Rs.250 Flipkart Voucher once you send your courier through ekart. Once you send courier through ekart you will get Rs.250 Flipkart Voucher within 15 days.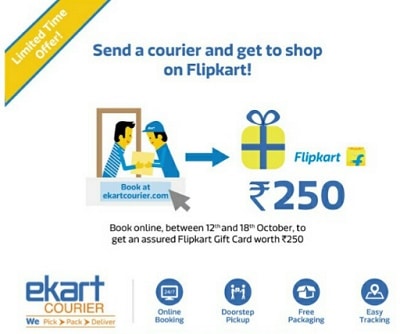 EKART Courier is your hassle-free, easy to use, reliable and safe courier with a host of benefits. EKART Courier allows you to book a courier pickup online at any time on the Desktop website and Mobile site, accessible from all major browsers.
So, let's proceed further and check out How to get Free Rs.250 Flipkart Voucher by sending courier through Ekart.
How To Book Courier From Ekart:
Firstly Visit ekart Courier Page From Here.
There you can see two fields for entering Pincode [Pick-Up Area Pincode & Delivery Area Pincode].
Now Enter the Pick-Up Area Pincode & Delivery Area Pincode.
If your pincodes are serviceable, the live alert will turn green and you can proceed to the next step.
Once the pincodes are validated and service is confirmed, you must confirm the type of courier [Document or Non-Document], the approximate weight of the package, and the time slot to get your package picked up.
Now Choose any Delivery Cost Option From Standard or Premium Prime.The Standard Option will get your package to the destination within 4 business days.
Premium Prime Option face paces this by 2 business days.

Click on Next & On next page Enter your Mobile Number & Verify it.
Now Enter all the required details & Register for new Ekart Account.
Finally, Enter the Pick-Up Address & Delivery Address and confirm the booking.
How To Get Rs.250 Flipkart Voucher After Booking Of Courier:
Once Courier Pick-Up is completed tracking ID needs to be sent to [email protected] to get Rs.250 Flipkart Voucher.
Terms & Conditions:
Valid only for the first booking made on or before 11th Dec.
Once the courier pick-up is complete, tracking id needs to be sent to us at [email protected]
Flipkart gift voucher will be shared within 15 days of receiving the tracking id and it will be valid for one year.
Purchase made on Flipkart will be subject to the various policies including the Terms of Use and Terms and Conditions for Gift Cards and other relevant documentations that are available on Flipkart.
Gift card cannot be settled against cash or any additional services,
Given the nature of telecommunications/ internet services and that an email transmission may not be received properly and may be read or be known to any unauthorized persons, you agree to assume and bear all the risks involved in respect of such errors and misunderstanding and not hold us or Flipkart responsible in any manner.
---
---