15 Best Free Roku Channel List Of 2018
Best Free Roku Channel List is the most searched term nowadays. When it comes to Roku, there are tons of Best Roku Movie Channels, Sports Channels, News Channels, etc. So, today I'm going to Share 15 Best Free Roku Channel List Of 2018.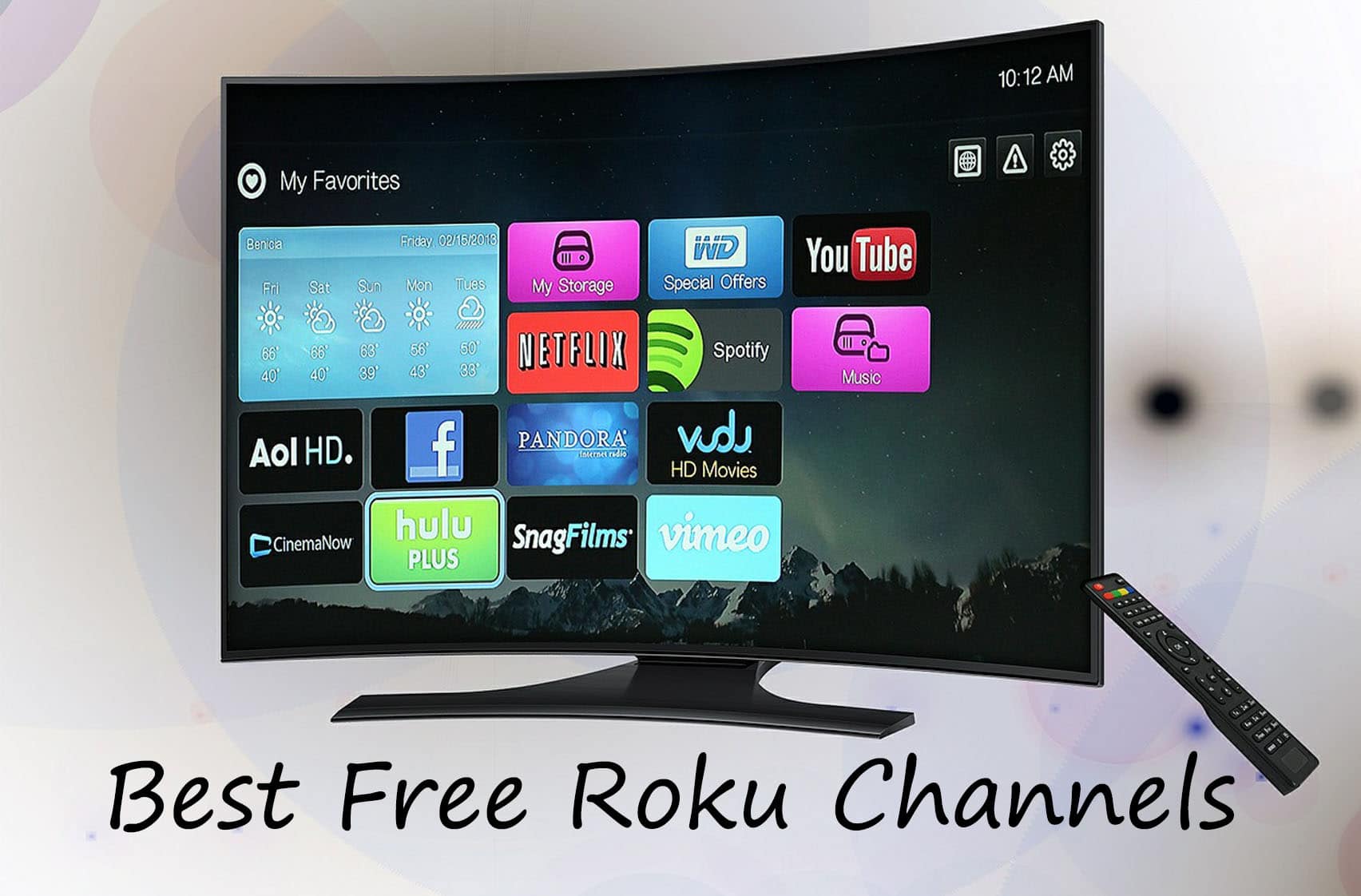 There are hundreds and thousands of Roku Channels where you can Watch HD Movies, Sports, News and much more. So, it's difficult to select the Best Roku Channels out of them.
Roku is quite Similar to Netflix and Hulu, but it's much more than that. You can install below-provided channels on Roku or Apps like Roku.
You don't need to pay any subscription fee for the Free Roku Channels as they are free to use. There are many free movies on Roku which you can watch in Full HD.
If you are looking on how to watch free new movies on Roku, then head over to the Article and Check out these Best Free Channels On Roku.
Also Read : YIFY Proxy : Unblocked YIFY Sites 2018 (100% Working)
15 Best Free Roku Channel List Of 2018
Best Free Roku Channel List
#1. The Roku Channel
The Roku Channel is an official release from Roku itself that lets you watch hundreds of free movies in different categories.
It offers hundreds of movies in many categories which you can watch for free. You can say it's Alternative to Netflix but free.
Though Roku Channel isn't going to fulfill all of your movie watching needs as it doesn't have many blockbuster films, still, it's free and you can't complain about it.
#2. Crackle
Crackle is one of the Best Free Channel On Roku which is owned by Sony. It is an ad-supported video platform where you can Watch Free TV Shows & Movies.
As it is owned by Sony, you will mainly see TV Shows & Movies produced by Sony. Crackle is a Site like Tubi TV & Netflix where you can watch TV Shows free of cost.
When it comes to personalization, Crackle comes ahead as you can personalize the list of your favorite programs with the ease.
#3. Pluto TV
Pluto TV is an Internet-based TV Platform where you can Watch your favorite TV Shows for free. It is another Best Roku Apps to stream movies and news.
It has 100+ Channels of Free TV including News, Sports, Entertainment, Series, etc. Pluto TV is very different from Crackle, instead of providing on-demand streaming, it provides live TV shows.
Moreover, you can also watch Live News and Sports on this TV. You can add channel to Roku TV and enjoy watching movies and live streams.
#4. Popcornflix
Popcornflix is another Best Channel on Roku and a Free Version of Netflix where you can watch your favourite Movies & TV Shows for Free.
The App features full-length movies and TV Shows categorized in order. It has many categories including Drama, Action, Thriller, Horror, Comedy, Romance, Si-Fi and much more.
TV Shows include categories like Reality Shows, Action, Comedy, Anime & Cartoons, etc. Overall, it's the Best Free Roku Channels on the list.
Also Read : 13 Best Football Streaming Apps For Android & iOS
#5. PBS
PBS (Public Broadcasting Service) is an American Public Broadcaster and television program distributor where you can Watch Shows & Movies for free.
It offers most of the things you'd expect like thousands of on-demand TV Shows. You can watch shows, latest news and even some original web content.
PBS also has a channel on Roku for children called PBS Kids. You can add this channel on Roku to watch your favorite shows and news.
#6. iHeartRadio
iHearRadio is another free broadcast and internet radio platform which is owned by iHearMedia, Inc. It is a free radio service that features 1500+ live stations.
If you love listening to music via Music Player, then this Channel is for you. You can listen to your favorite music and you can create custom stations that can play the song based on the Artists you select.
Additionally, with the music, it is also a Radio Channel which allows you to listen to the traditional radio stations live and free of cost.
#7. Tubi TV
Tubi TV is one of the most popular and best video-on-demand company where you can watch free movies and tv shows.
You can watch your favorite shows for free without any subscription. The site has over 7000 titles including from some well-known studios like MGM, Lionsgate, Paramount and more.
Tubi TV is not only for Roku but it's available for various other platforms like Android, iOS, Apple TV, Smart TV's, Xbox, PlayStation and many more.
#8. Spotify
If you love Download Music & Playing Music, then Spotify will be best for you. It is the Best Music Service App for Roku where you can listen to your favorite song.
Spotify gives you access to the millions of tracks. Simply search the best one you like and hit enter. You can also personalize your playlists.
Though you'll need premium version of Spotify to run on Roku which costs $9.99 per month, it's worth buying it as you'll get access to millions of songs and tons of extra features like Music Download App.
#9. Twitch
Twitch is a live streaming video platform where gamers can stream their video games live. If you are a Gamer, then Twitch is a Must-Have App for you.
On the Home Page of Twitch, you'll find an on-going live game which you can watch. Apart from this, you can watch Top live Channels or search for the one you want.
If you love watching other games, then you can add this channel on your Roku Device. It's another most popular free Roku channels.
Also Read : How to Record Video Calls On Android
#10. Pandora
Pandora is another most popular channel on Roku which is a Free music service where you can listen to your favorite songs.
Talking about music, it has tons of music to play and you can create your own stations based on Artists, Tracks, Songs or Genres.
Though the App is free with limited features, you can subscribe to Pandora Plus for $4.99 per month which has tons of exclusive features.
#11. Livestream
With this Livestream App, you can get live events in News, Music, Sports, Entertainment, Celebrities, Education and much more.
It has over 60+ local U.S. TV news stations which is really great. Here, you can watch live events and even replay events after they have ended.
It's another Best Free Live TV on Roku where you can watch your favorite Sports, News, Entertainment, Music related videos. It's another Best Free Roku Channel List.
#12. Sky News
If you love Watching News, then this channel is for you. They live stream 24 hours a day where you can get videos related to news.
It is the Best 24-hour news channel where you'll get news as well as catch-up services of all the key stories including Business, Entertainment, Politics, etc.
The Best part about this is, it's free of cost and you can watch the news 24×7 with this App. Overall, it's another best list of Foku free channels.
#13. The Weather Network
The Weather Network is the only Weather Channel in the list where you can get details on live local forecasts for your area.
With this Channel, you can get live local forecasts and you can view conditions for the next 14 days. It also has a Live TV to view your forecast for your area.
Along with it, you can also get amazing videos informing about the weather from all around the world. Overall, it's another Best Free Roku Apps for Weather.
Also Read : How To Check Who Viewed Your Facebook Profile [ Updated ]
#14. Roku Media Player
Roku Media Player is a Media Player for Roku Devices. It is similar to MX Player for PC where Roku Media Player can play videos and images.
The Roku Media Player allows you to browse, find and play the content from your local network and from your USB Device.
It also works as File Manager and manages your video and image files. It can play videos in the supported file formats of MP4 & MKV.
#15. YouTube
Love Watching YouTube Videos? If Yes, then be thankful as YouTube is also available in the list of Best Roku Channels.
In earlier days, when it was first launched for Roku, it was not much comfortable for the users but don't worry, now it has been improved much.
You can access Youtube Videos by adding this channel to the Roku Device. It's another Best Free Channel List On Roku which you can add.
Also Read : Top 10 Below 5MB Games For Android (Low MB Games)
Final Words
This was the Article On 15 Best Free Roku Channel List Of 2018. Apart from this, there are thousands of many other Free Channels On Roku which you can Add. In this list, most of them are Movies & TV Shows Channel and some are Music and News Channel.
Hope you liked this Article On Best Free Roku Channel List. Do Comment below if you have any query. Stay tuned with us for more latest Tricks & Updates.